Redford Township Police Sergeant Selected for Scholarship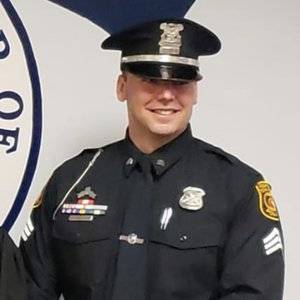 REDFORD TWP. – The Officer Collin Rose Memorial Foundation is excited to announce the winner of its
scholarship.
Michael Cracchiolo, a police sergeant at Redford Township Police Department, was selected for the
organization's scholarship.
The $500.00 award honors the late Wayne State University Police Officer Collin Rose. He was murdered on
a street investigation in Detroit in November 2016. He was pursuing a master's degree from the university
at the time of his death.
"I am humbled to be recognized by the Foundation," Cracchiolo said. "This is a big help."
The 36-year-old said the scholarship will help him offset the cost of tuition at Eastern Michigan University
where he is pursuing a master's degree.
Foundation President Chris Powell said their organization received more than 30 applications from
deserving students around the state for its inaugural scholarship. Applicants submitted essays, letters of
recommendation and transcripts for consideration. Cracchiolo was selected following a review by the
organization's 13-member scholarship and awards committee.
"Our committee was greatly impressed with Michael's story and dedication to continuing his education,"
Powell said. "He is highly regarded by his department and the community. We are honored to celebrate
him and help offset the cost of his tuition with this scholarship."
Cracchiolo is currently assigned to the agency's patrol division. He has been on the force since 2004 and
been recognized nearly 30 times for outstanding police work. Prior to his promotion Cracchiolo worked as
a school resource officer for the department. He also served a training officer and firearms instructor.
"Sergeant Cracchiolo possesses the leadership, the drive and the pursuit of knowledge and training that is
vital to being a good command officer," Police Chief Nick Lentine said. "He is not one to ever shy away from
a challenge or from hard work. He is a leader and a great example."
Family is important for the married father of four. He is a proud second-generation police officer, following
in the footsteps of both his father and mother. He volunteers off-duty with his sons' youth hockey program.
Cracchiolo also recently recovered from open heart surgery, returning to the force within four months of
his surgery.
"Being a father of four along with the surgery made tuition difficult," he said. "Thank you again to the
awards committee for their consideration."
17th District Court Judge Karen Khalil recommended the sergeant for the scholarship.
"Michael is not only a valued member of his department, but he is also a dedicated husband and father,"
she said. "Michael demonstrates strong character in both his personal and professional life. Michael has
always been quick to help and has volunteered for many community related projects. I have known him to
be dependable and professional in all endeavors."