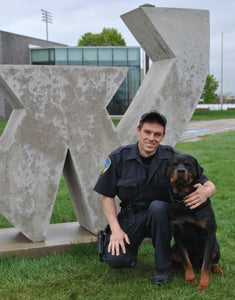 NEVER FORGOTTEN
Honoring Our Hero
On November 23, 2016, Wayne State University Police Officer Collin Rose was killed in the line of duty. He made the ultimate sacrifice. His family, friends, the city of Detroit and the entire nation remember him as a hero. He forever lives in our hearts. 
The Officer Collin Rose Memorial Foundation grew out of a committee of Collin's current and former co-workers. They got together in early 2017 and began planning a golf outing that would memorialize their late friend. The outpouring of support and interest in the outing led the committee to incorporate as a non-profit organization to better honor their fallen brother.
We believe Collin would be proud of the work we do in his honor. He was an avid supporter of causes involving fallen officers and canine safety. Our work pays tribute to him and his interests. 
CHECK OUT OUR GIFT SHOP
All purchases made through our gift shop help support scholarships, hero families, community programs, K9 training, and the projects Collin cared most about. Thank you for helping us continue his amazing legacy.