MUNISING STUDENT SELECTED FOR SCHOLARSHIP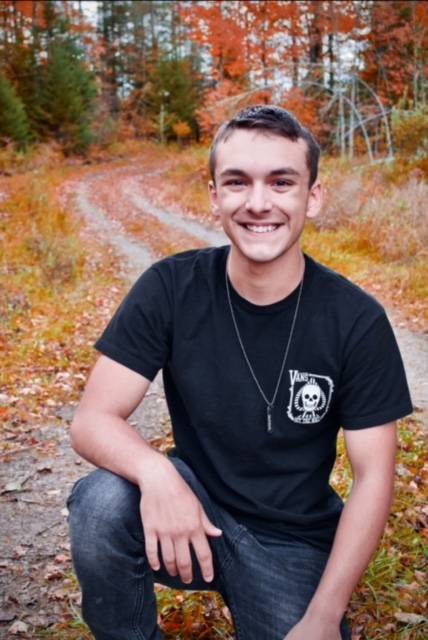 MUNISING– The Officer Collin Rose Memorial Foundation is pleased to announce the winner of its third annual scholarship.
Caleb Nimee of Munising was selected for the organization's scholarship. The $750.00 award honors the late Wayne State University Police Officer Collin Rose. He was murdered on a street investigation in Detroit in November 2016. He was pursuing a master's degree from the university at the time of his death.
"It is an honor to represent Officer Rose in this way and I am so excited to receive this prestigious scholarship," Nimee said. "This will help me financially to be able to achieve my goal to becoming a state trooper and forever honoring his legacy."
Nimee, 18, said the scholarship will help him offset the cost of tuition at Northern Michigan University where he will pursue a bachelor's degree in criminal justice this fall.
Nimee is a recent graduate of Superior Central High School where he excelled on the field and in the classroom. Nimee was a captain on the football team and a member of National Honor Society for his scholastic performance. Nimee calls the late Officer Rose inspiration.
"I want to be the positive light in my community, the face people look into when they need help in a time of need. Just like Officer Rose," said Nimee who aspires to be a state Trooper. "Rose's community commitment encouraged me and so many future officers to apply and make positive contributions."
Nimee maintained a 3.79 grade point average while working part-time at Timberdoodle Lodge in Rapid River and serving with the Michigan Army National Guard.
"I always wanted to serve in some capacity and wanted to help people," he said. "I found the Army National Guard as a place where I could do both, serve my country nationally, while being home enough to pursue my dream of becoming a Trooper."
Social studies teacher Brenton Fitzpatrick recommended Nimee for the scholarship.
"One of Caleb's strongest attributes is his commitment to a cause," Fitzpatrick said. "If there is a task that needs to be done, Caleb will commit to getting it completed in the proper manner."
Fitzpatrick worked with Nimee researching the story of U.S. Army Private Manfred Carl Anderson, a Hancock native killed in the attack of Pearl Harbor on December 7, 1941.
The research was part of Sacrifice for Freedom: World War II in the Pacific Student & Teacher Institute, a cooperative learning program coordinated through National History Day.
"Caleb bore most of the workload involved, choosing a research subject, contacting local libraries or museums, conducting online research and traveling to our subject's hometown," Fitzpatrick said. "Caleb read and analyzed multiple books assigned as course material, practiced academic writing and learned more about proper citation. Throughout the process Caleb and I collaborated on research, developing plans for completion, drafting our findings, and revising our drafts."
The finished research was published on the National History Day's Silent Heroes web site at nhdsilentheroes.org. Nimee and Fitzpatrick visited Hawaii for a recognition ceremony in late June. While there, Nimee delivered a graveside eulogy for Private Anderson at the National Memorial Cemetery of the Pacific
Foundation President Chris Powell said Nimee stood out from other applicants.
"Our organization was impressed with Caleb's passion and dedication," Powell said. "Caleb understands the weight of the badge and the importance of service. We look forward to supporting him and celebrating his many successes."
The scholarship is renewable if positive academic performance is demonstrated. For more information about the Foundation and its scholarship visit collinrosememorial.org